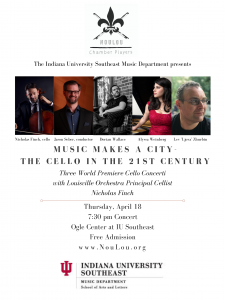 In April 2019, after months of planning and expert execution by Cecilia Huerta-Lauf and Laura De St. Croix, directors of the NouLou Chamber Players, I had the great honor of premiering and performing three fantastic new cello concertos written for me by Lev "Ljova" Zhurbin, Alyssa Weinberg, and Dorian Wallace, featuring that ensemble conducted by Kansas City Symphony Assistant Conductor Jason Seber.
It was no small feat for the team to find a network of supporters to help bring these works to life, and the tireless musical and organizing efforts that went in to making this premiere a reality paid off.
And we loved doing it so much, we're going to turn this into a lasting project – a debut CD! To be recorded sometime in late 2020, hopefully released in 20201.
We will have lots of exciting updates to come in the coming months. In the meantime, please do all you can to support the NouLou Chamber Players, in bringing this and all of their incredible musical events happening in Louisville this coming season and beyond!